Frequently Asked Questions
Check most frequently asked questions here. If you still need help then please contact us via phone at 888-356-3665, or email us at service@ninjatransfers.com
Artwork & Sizing
No, we do not have art or setup fees when placing orders for DTF transfers through us.
Simply upload your art and make sure to leave any specific notes for our designers such as:
Remove white background
Change image size to 2x4
Swap the black ink out with blue ink
Fill gang sheet up with as many 4x4 images as possible
Yes, you can have multiple designs and sizes on one DTF Transfer Gang Sheet.
Gang sheets are the perfect solution to get multiple designs and variations of sizes all printed together conveniently for you. Our gang sheets come in the following of sizes:
22 Inches by 2 Feet
22 Inches by 5 Feet
22 Inches by 10 Feet
22 Inches by 15 Feet
22 Inches by 20 Feet
The longer the roll, the better price per square inch you receive, so take advantage and get one of our largest gang sheets here.

Note: We only accept ready to print vectorized gang sheets. Otherwise, you can build your own gang sheet here on a roll or get them pre-cut for you on our Transfers By Size product page.
Yes, we will be able to clean up your DTF transfer designs and/or remove the background.
Our talented team of designers will make sure your art looks perfect for print.
Any special requests, such as remove a background, change the color, etc., can be left in the Notes for our Designers section after you upload your design on our products page.
Ninja Transfers does not charge for any file or art setup, however, when uploading your art, the following file types are preferred.
PSD (Photoshop)
PNG
PDF
AI (Adobe Illustrator)
JPG
SVG
Our preference: SVG files work best because it allows us to re-size artwork without losing any quality. However, as long as you upload a file (PNG, JPG, PDF) with 300 DPI, we'll be able to re-size the image to your liking, without losing any quality whatsoever.
For women's shirts, a 9" by 9" DTF Transfer design typically works the best.
Although there can be a large variance in sizing between a Women's XS and a Women's 2XL, we still find that the 9" by 9" sizing works well.
For information on Adult sizing and Youth sizing, check our other FAQ sections.
For youth shirts, a 8" by 8" DTF Transfer is suitable.
Although there's a fairly large variance in sizing between a Youth XS and a Youth L & Youth XL, an 8" by 8" DTF Transfer design is still suitable.
For information on Adult sizing and Women's sizing, check our other FAQ's.
For adult shirts, even with a size scale of Adult S through Adult 5XL, 11" by 11" or larger is recommended.
However, with DTF transfers you are able to modify the sizes as you like and still retain the bulk discount pricing on the whole order.
If you prefer to modify the design size based on shirt size, we recommend the following:
Adult Small through 2XL: 11" by 11" or larger
Adult 3XL through 5XL: 12" by 14" or larger
For information on Youth sizing and Women's sizing, check our other FAQ sections.
Ordering
No, there are no minimum quantity requirements when ordering through Ninja Transfers.
If your order hasn't made it to our production queue, you can certainly cancel your order and be refunded in full. Please keep in mind, all orders at Ninja Transfers print and ship within 24-48 hours of being placed.
We know things happen and will always do our best to accommodate our customers. All we ask is that you please be mindful when cancelling your order.
For assistance on canceling your order, contact us at 888-536-3665.
First, you'll need to choose the size of your DTF Gang Sheet. Our size options include:
22" x 2 Feet
22" x 5 Feet
22" x 10 Feet
22" x 15 Feet
22" x 20 Feet

After selecting the size of your DTF Gang Sheet, you'll then have to upload the artwork for it. We accept four different file types for your DTF Gang Sheet upload. These file types include:
Our Recommendation: We prefer vector images (SVG) when uploading DTF Gang Sheets. This file type is the best for image quality and it easily allows us to modify your artwork if you want us to do so.
Follow these four simple steps to get your artwork uploaded and order placed:
Upload your designs (any file type works, up to 5GB)
Leave a detailed note on any tweaks you'd like done to your design (specific sizing, color change, background removed, etc.)
Select your DTF Transfer size and cut option (pre-cut or rolled)
Select your quantity. There's no limit on how many DTF Transfers you can order!
For a step-by-step guide on how to place your order for DTF Transfers by size, watch our tutorial below.
If there are any issues with your DTF Transfers order, we're happy to work with you and resolve any problems. Whether it's an issue with quality, color, or quantity, we'll work to ensure you're satisfied with your order.
Contact us via our livechat system with any issues, and please include photo(s) as a reference point. You may also contact us directly through our customer service line, 888-356-3665.
Ninja Transfers proudly prints and ships all orders from two locations in the United States.
Our main location, which includes our sales and service departments is located in Philadelphia, Pennsylvania. We have also recently opened a production facility in San Diego, California to give our West Coast customers even faster turnaround times.
Ninja Transfers: Born in the USA
Pricing
We offer a variety of blank apparel options, including:
DTF Transfers By Size pricing is dependant on two things:
Size of the design
Quantity of the order
Refer to our DTF Transfers By Size price chart below for precise pricing on size and quantity combinations.
Order your DTF Transfers By Size here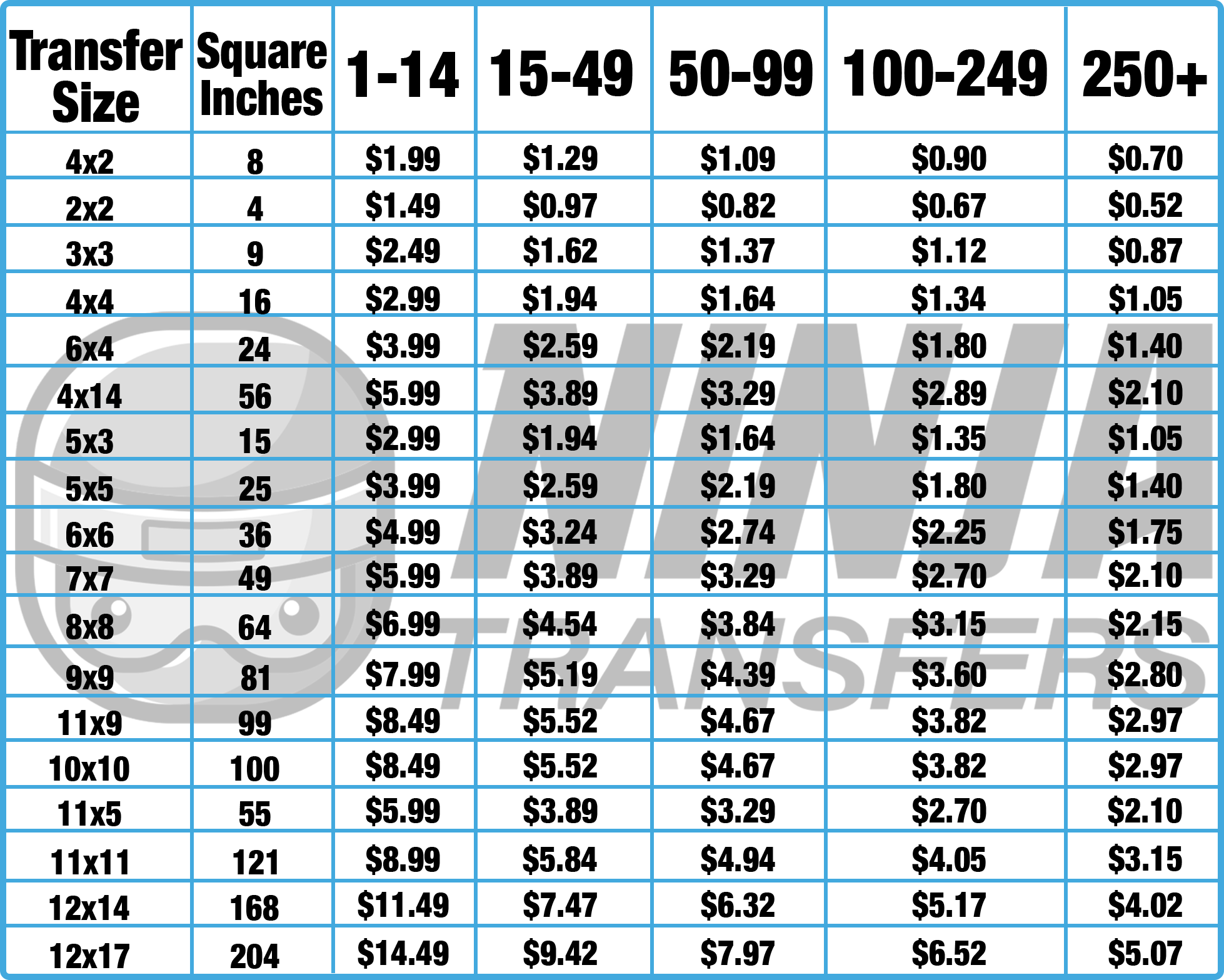 DTF Gang Sheet pricing is solely dependant on the size of the gang sheet you choose. We DO NOT charge anything extra for the amount of designs on your gang sheet. You can insert as many designs as you'd like for your gang sheet order, just as long as they fit on the gang sheet size you chose.
Refer to our DTF Gang Sheet price chart below for precise pricing on gang sheet orders.
Order your DTF Gang Sheet here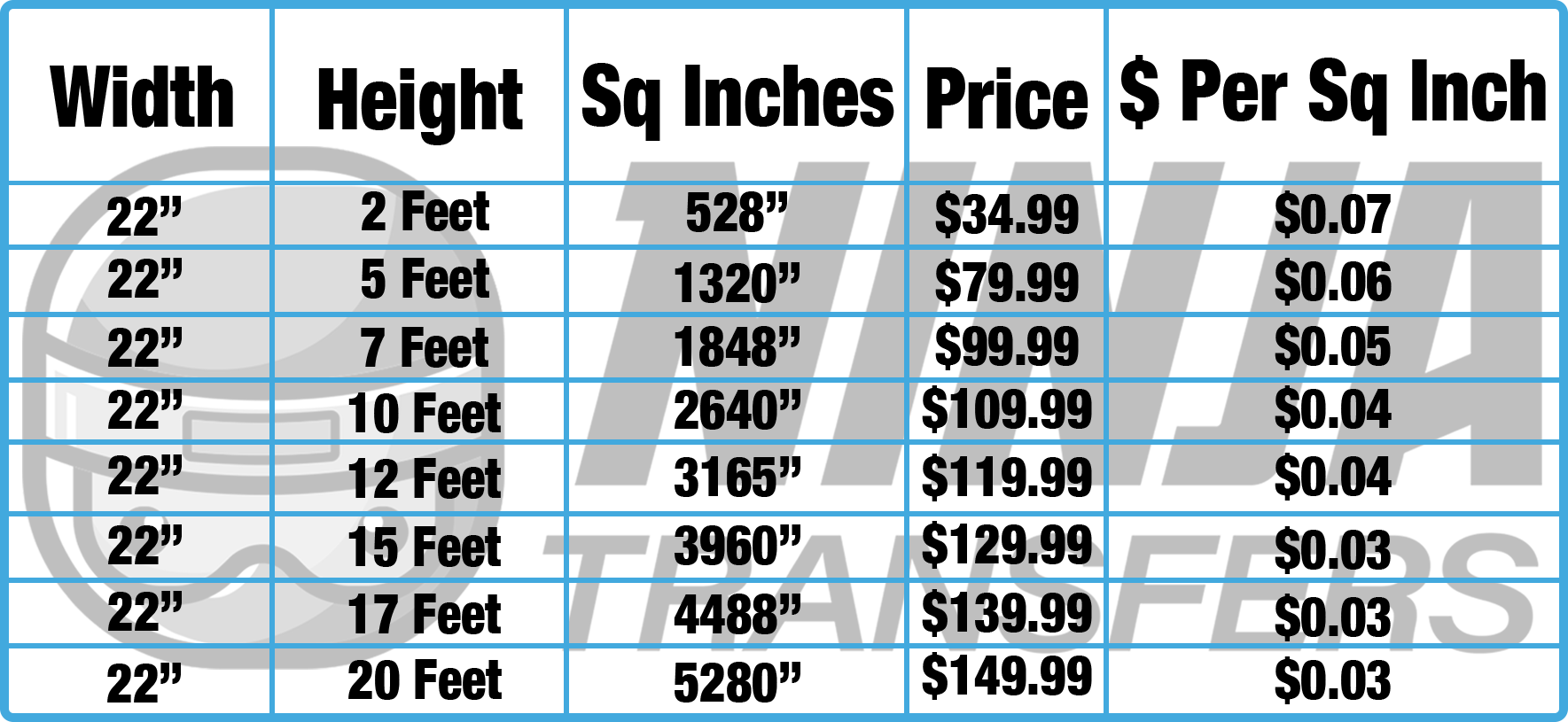 No, all of our pricing is based solely on size and quantity. You can add as many colors as you'd like to your DTF Transfer designs and the price will remain the same.
Ninja Transfers offers wholesale and bulk discount pricing.
When ordering DTF Transfers by Size, we automatically apply bulk quantity discounts to total price in your cart. Basically, the more transfers you buy, the more money you will save on your total order.
Ninja Transfers Bulk Quantity Discounts
QTY 1-14: 0% Off Entire Order


QTY 15-49: 35% Off Entire Order


QTY 50-99: 45% Off Entire Order


QTY 100-249: 55% Off Entire Order


QTY 250+: 65% Off Entire Order
Note: Discounts are applied by total order quantity, not by design quantity.
Example: 100 of a 4x4 design and 200 of a 3x3 design will qualify you for 250+, 65% off pricing on your order.
Shipping
No, we do not currently have a pickup option available. As we continue to grow as a company, we'll be moving into a more customer-friendly workspace.
We work around the clock to ensure we print and ship all of our orders within 24-48 hours.
Note: If your order is time sensitive, please choose our Rush Delivery or Guaranteed UPS Next Day Air shipping options.
At checkout, we provide several shipping options to help expedite your order.
Orders that are $75+ shipped within the USA (with the exception of Alaska and Hawaii) can receive free shipping through USPS (5-7 business days)
We ship proudly out of Philadelphia, PA and San Diego, CA.
We have multiple shipping options available for you at checkout so you can receive your order as fast as possible.
To qualify for free shipping, your order must be at least $75 in total.
Our shipping options include:
Standard Shipping: 5-7 business days
Rush Delivery: 2-3 business days
Guaranteed UPS Next Day Air Saver: Guaranteed for next day delivery by the end of the day
Guaranteed UPS Next Day Air: Guaranteed for next day delivery, as early as 10:30AM
Tools & Tips
Follow this step-by-step guide to ensure your DTF Transfer presses look professional every single time.
Position
Take your time and line up your artwork in the desired print area.
Press
Press your DTF transfer with medium pressure at 300°F-320°F (160°C) for 12-15 seconds.
Cool & Peel
After pessing your DTF transfer onto the garment, let your transfer cool for a minimum of 15 seconds. Once ther transfer feels cool to the touch, lift the transfer from one corner and gently peel back while applying even pressure.
Final Press
Place the parchment paper included with your order on the design and press again for 15 seconds to enhance feel, increase durability, and remove shine.
Click Here for instructions on how to press our DTF Transfers
Our DTF Transfers are extremely lightweight and versatile. They work great on lightweight polyester / moisture wicking material and are very breathable across all fabric types.
Ninja Transfers provides premium DTF Transfers that are cool peel.
Press with medium pressure at 300°F-320°F (160°C) for 12-15 seconds.
Remove pressure and heat; let your transfer rest for a minimum of 15 seconds to ensure it's cool enough to peel.
After letting your transfer rest, it should be cool to the touch. Once it's cooled, lift the transfer from one corner and gently peel back and apply even pressure.
Place the parchment paper included with your order on the design and press again for 15 seconds to enhance feel, increase durability and remove shine.
Here at Ninja Transfer, we've spent years perfecting the art of printing DTF Transfers.
From investing into the industry-leading Industrial DTF Printers and Dryers, to calculating the exact formula for Premium Matte Inks and TPU Powders to print on the highest quality of film, it's no secret as to why Ninja Transfers has grown so quickly in the DTF Transfer space.
Save Time Centering Your DTF Transfers
Our DTF Alignment Ruler Set gives you everything you need to produce consistent professional-quality results. We sell five different ruler sets to ensure your DTF transfer placement is picture perfect, no matter the size of the garmet. All of the ruler sets are made from strong, durable PVC material that won't peel or fade. The measurements are clearly visible on the ruler guides, making it easier to quickly line it up with the collar of the garment, saving you hours of repositioning and second guessing. Other tools included are pins and measuring tape, plus a placement guide.
Our DTF Alignment Ruler Set includes:
1 X 2XL-6XL Alignment Ruler
1 X Adult Alignment Ruler
1 X Youth Alignment Ruler
1 X Toddler Alignment Ruler
1 X Infant Alignment Ruler
1 X Soft measuring tape
40 X Multi-color pins
1 X Product Placement Guide
How to Machine Wash:
Turn your pressed shirt inside-out before washing.
Separate similar colors, weight, and textures. Make sure to not overfill the washer.
Use mild detergent with cold water on a gentle cycle.
Warm water, harsh detergents, and aggressive wash cycles can damage both the garment and the transfer itself.
How to Dry:
We recommend hang-drying on a plastic hanger, but a drier works fine if you follow the steps below.
Turn your pressed shirts inside-out before drying.
Separate similar colors, weight, and textures.
Use the lowest possible heat setting or Permanent Press.
DTF Transfers, which stands for Direct to Film Transfers, are an incredible new way of transfering any image onto any material or color without having to worry about technical printing specs you may have had to worry about in the past.
Every transfer is printed the same way with the same underbase. There are exceptions to this rule of course, but generally speaking, everything is the same on every material you transfer onto, making it much easier to have confidence that all transfers will adhere and appear as you desire on every order.
There is no limit to the color range, number of colors, or quantity that you can order in DTF transfers.
This wasn't possible with screen printing transfers because you needed to make sure that you were ordering the correct ink type for the garments you would be printing. It would also be quite cost prohibitive to order a small quantity of screen print transfers, especially when ordering a high color count. With DTF transfers, this is a thing of the past.
You no longer have to be a t-shirt genius. Your orders will be more profitable and consistent with DTF transfers.
Tutorial Videos
Watch our step-by-step giude on building a DTF Gang Sheet through our online builder.
Watch our video below on submitting a DTF transfer gang sheet order.
We make ordering DTF transfers by size a breeze!
Watch below to ensure every press is perfect when applying UV DTF PermaStickers.